Smile Tech plasma case
time:Friday on Apr 15, 2016 editor:admin
Our plasma case offer the perfect solution for transporting your fragile LED/LCD plasma TV case to exhibitions, presentations and trade shows.
The tough, rugged construction of our plasma case will ensure your screen is fully protected whilst in transit.

All our cases are kept in high quality with high quality materials, including 9mm-12mm fireproof plywood, aluminum frames on all edges, indestructible steel ball-corners to protect case corners, and foam lined inside to absorb the shocks that may have in transportation.

With Professional R&D team and sales team and after-sale team, as a leading manufacturer of plasma cases here in China, our company and our plasma case are your perfect choice. Let us be your great help in business.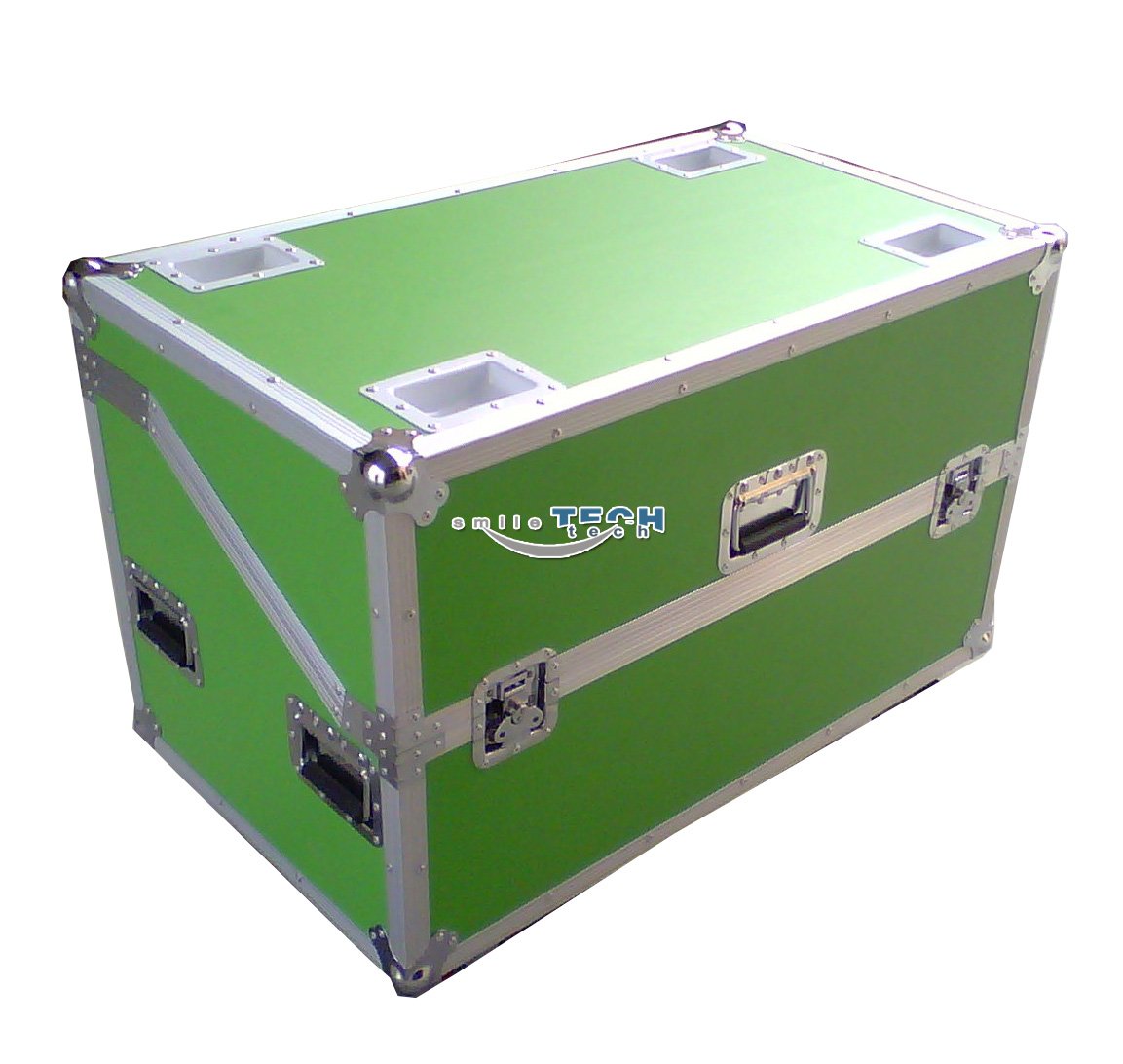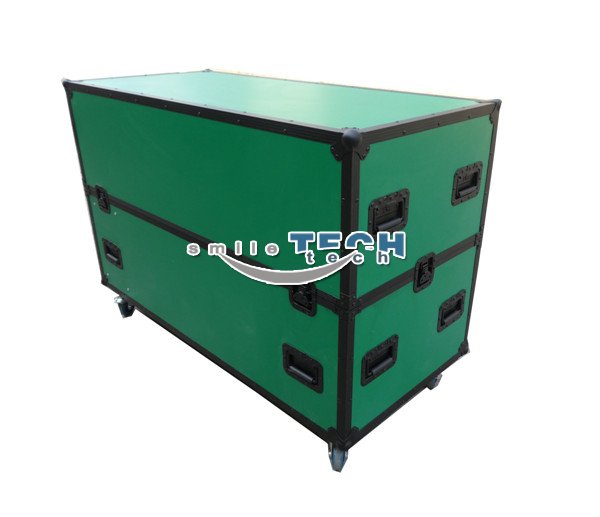 Product Description

Specifications
Place of Origin: Guangdong, China (Mainland)
Brand Name: Smile Tech
Model Number: Smile Tech - plasma case
Material: Plywood + hardware + foam
Usage: Transportation/Storage/Audio show/Exhibition
Accessories: Penn Hardware /Blue
Galvanized Hardware/Aluminum/Foam
Dimensions: Depend on Customers' requests
Feature: Heavy duty & Dual
Color: Black/Green/Red/customized
Covering: Fabricated
Fire proof & water proof: YES
High-end Customize: Support
MOQ: 5 pcs
OEM/ODM: Yes
Sample Order: Yes
Quantity: A
Standard: ATA 300

Features
* Durable and solid rack rails
* ATA 300 Flight Road Case
* Spring action Handles per Side
* Easy locking fit and tongue
* Heavy and powerful steel ball corners
* Industrial strength latches and rubber feet
* Dual anchor rivets
* Rear hinged door panel
* Laminated 3/8" plywood
* Includes mounting hardware and padlocks
* Recessed butterfly twist latches

Hard Fittings:
* Beefy, Stackable Ball Corners
* Double Anchor Industrial Rivets
* Recessed, Industrial Grade Latches
* Recessed, Industrial Grade Handle
* Industrial Grade Rubber Feet
* Premium 3/8 inch Vinyl Laminated Plywood
* Tongue and Groove Locking Fi
* ATA 300 Rating

Packaging & Delivery
Packaging Details:Protective film / Paper corner / Bubble bag / Carton
Delivery Detail:7-10 working days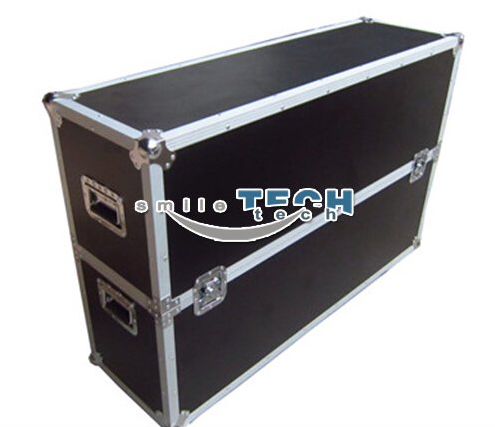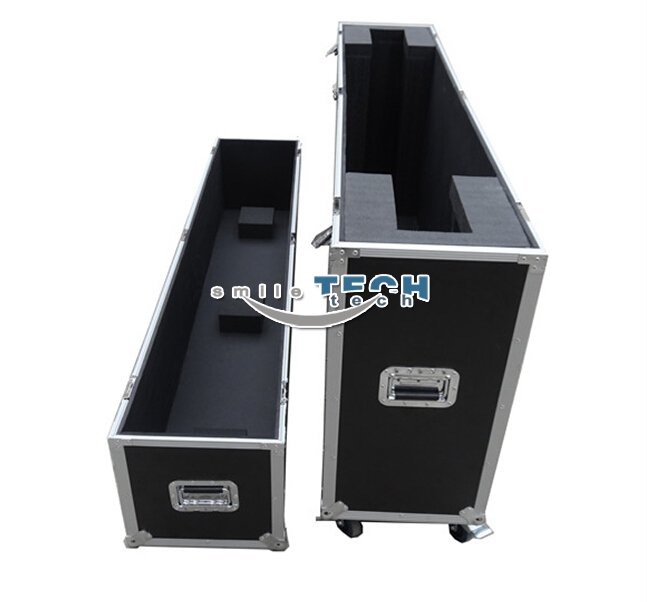 | | |
| --- | --- |
| Model Number | Description |
| RKPLASMA42C | 42" UNIVERSAL PLASMA MONITOR CASE WITH CASTERS |
| RK2PLASMA42C | CASE FOR 2 X 42" PLASMA DISPLYAS WITH CASTER BOARD |
| RKPLASMA50C | UNIVERSAL CASE WITH CASTERS FOR 50 INCH PLASMA MONITORS |
| RK2PLASMA4050CS | PLASMA CASE FOR 40"-50"PLASMA ,EACH CASE HOLD 2 PLASMAS |
| RKPLASMA24CS | PLASMA CASE FOR 24" PLASMA DELL_G2410, EACH HOLD ONE |
| RK2PLASMA52CS | PLASMA CASE FOR 52"PLASMA NEC LCD5520,EACH HOLD 2 |
| RK2PLASMA46CS | FOR 46" NEC X461UN , EACH HOLD 2 |
| RK2PLASMA58CS | FOR 58" TH58PF12EK_SPEC,EACH HOLD 2 |
| RK2PLASMA40C | 40" UNIVERSAL PLASMA MONITOR CASE , EACH HOLE 2 |
| RK2PLASMA55C | 55"UNIVERSAL PLASMA MONITOR CASE, EACH HOLD 2 |
| Customized Size | Yes |
| OEM/ODM | Yes |
| Lifting System Case | Yes |
Company Information

Smile Technology Co. Ltd was founded in 2001, Headquartered in Shenzhen. We are professional in manufacturing and marketing plasma cases in China, We make custom cases in a variety of styles & colors for 12 years. Our main products include LED/LCD plasma TV case,automatic lift plasma case and related equipment, Passed the ISO9001:2008 quality management system certification, and obtained the German TUV certificate. As well as continuously creative new production, Our products have been up to the international standards We has been providing musical instrument cases, drum cases, flight cases, mobile cases and many other styles of cases to a wide rang of nationwide industry professional.
We offer a number of construction levels in the manufacturing process from heavy duty ATA flight cases to our new line of alternative cases to meet every need and budget. Smile Technology is committed to the idea of "Quality, Service and Delivery". With an extensive line of stock items, we can meet your most urgent requirements.

Nowadays, Smile Technology become the leading brand in plasma case industry, win a high admiration and is widely trusted at home and abroad. its quality and reputation are highly praised and appreciated by the consuming public. RK products are sold widely in more than 40 countries and regions, Annual sales revenue exceed 4.5 million USD.
How to choose a good quality plasma case

The Plywood
Thick of plywood should reach to 12mm that is the national standard, even though it be affected with damp, won't be deformed and it has good strong, so it is resistant to impact. Some 9mm plywood actually only 7mm,an't reach to national standard, and most of it are poplar wood, After affected with damp, easy deform to rot, soft and not resistant to impact

The Foam
All with the crop of new material production, good elasticity, shockproof effect to level II, choose EAV more cotton. Sponge with old material production of EVA, elastic is not good, use pearl cotton and high foaming.

The Wheels
Adopt 3.5 or 4 inches large double polyester wheel, bearing load of 150 kg each or choose reinforcing performance capacity amounting to more than 200 kg each, round plate thickness 4 mm thick. Adopt the PVC round or use 3 inch small single bearing plate thickness of 2 mm, weight is no more than 80 kg fro each wheel.