Smile Tech new and cheap moving head lighting case with castor board for Profoto
time:Tuesday on Sep 02, 2014 editor:admin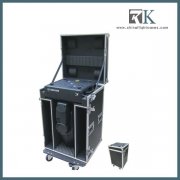 Smile Tech new and cheap moving head lighting case with castor board for Profoto
Feature:

* Beefy, Stackable Ball Corners
* Double Anchor Industrial Rivets
* Recessed, Industrial Grade Latches
* Recessed, Industrial Grade Handle
* Industrial Grade Rubber Feet
* Premium 3/8 inch nonslip padels
* Tongue and Groove Locking Fit
* ATA 300 Rating

Description:
1.Aluminum case, rack case ,speaker case , audio case , light case, tool case , equipment case , mixed case , trolley case , moving head light case and so on
2.We can design different case for you according to your equipment
3.Two kinds of materials for the cases: The first one is 9mm plywood (12mm/15mm custom)with 1mm fireproof plywood outside the case; The second one is nonslip , which is popular and popular in world now .
4. For the inside of the case, we can use different foams according to your request.
5.Grey ,black , red , orange and so on are available color
7.With the most professional R&D TEAM,We will do our best to meet your need and offer perfect service to you