NEWS
Black Multi-layer Display Flight Case With Drawers and Side Table
time:Wednesday on Jun 07, 2017 editor:admin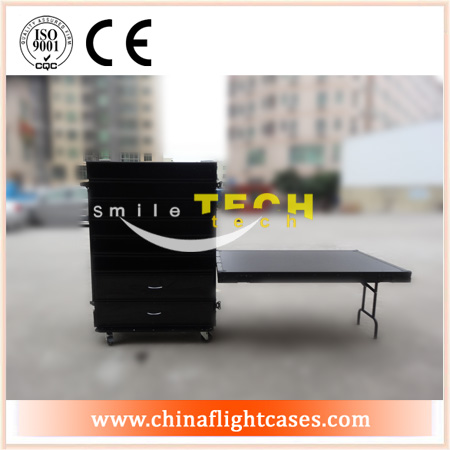 Since RK has been made great effort on rise the manufacture rate on display case process, there have been many new stylish custom display case coming from our factory. Here we describe another new model here. Let's see what makes it special from other models.

This black vertical style case is made of tough hard plywood and assembled with metal hardware. The cover board in the front can be dismounted from the case body and used as side table when it is hold by the metal rack leg in mating parts. This can be used as table or desk for placing goods. When open the case, there are layers on the top and two large drawers on the base. Layers can be pull out for convenient of putting in and taking out your goods. Large drawers on the bottom provide you enough space for hosting other goods or tools.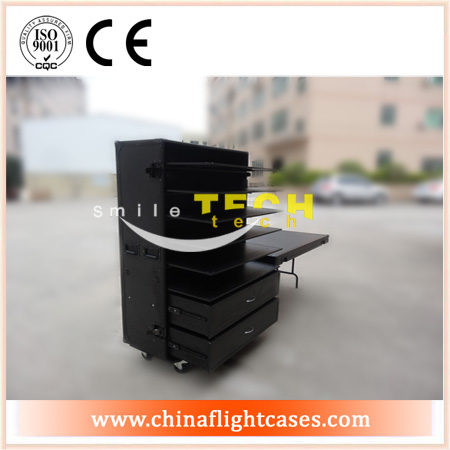 Since this case are easy to dismount and re-assemble, it is widely used as display closet in exhibition show, or shelf for placing goods in great shopping mall, and even used as document shelf in office. This multi-functional flight case meets people's favor for it's large storage interior space and movable features. When assembled, it is like a large case with casters, you can move it from place to place easily, and transport it in lorry container anywhere.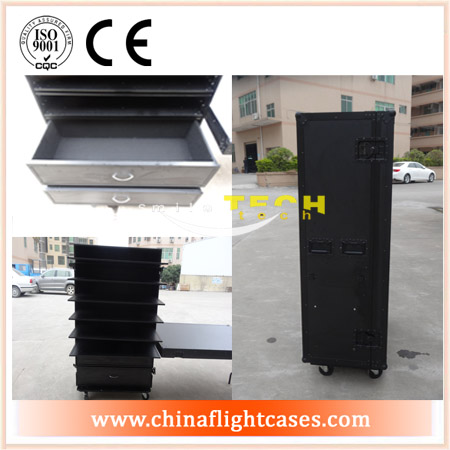 Here is a short brief about our new coming custom case of display case. For more specifics, please contact with our sales colleagues on our website via E-mail or telephone. There are more and more new style flight case coming from our manufacture house, please follow us on our website.