RGB LED star cloth for stage show background --3 M x 10M
time:Monday on Feb 29, 2016 editor:admin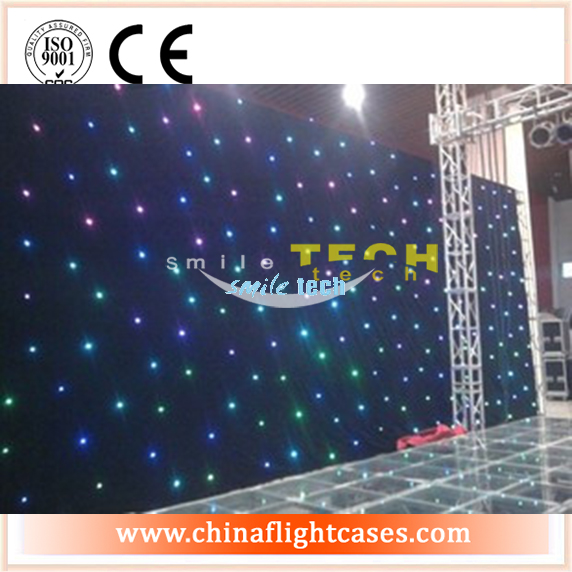 LED star curtain
RK star cloths are made from high quality, low reflective material and can quickly be mounted onto a goalpost or DJ stand using the provided reusable cable ties, making them ideal for mobile DJs and stage use. The LED star cloths are operated by the included wireless IR remote control, which can be used to change settings and brightness.
LED star curtain are covered with tiny bright LED "stars", The "stars" twinkle in various set patterns and can run on an automatic program, static
Our customers can obtain from us an excellent quality range of Flexible Stage Design LED Star Curtain.
Specifications
LED Star curtain
DIY Size
Star sky effect
CE&ROHS
DMX512.Auto.sound active, speed mode
Main Technical Parameters
Product name :Led color curtain,Led display light,RGB Horizon DMX Curtain, LED star cloth
Voltage:AC100v-240V 50/60Hz
Max Power:120W
Fuse:3A(Power Supply)10A(Control PCB)
Control System:All on/DMX Control/Sound Active/Automatic Channels: 6CH
Size: 2m*3m,2m*4m,3m*4m,3m*6m,3m*8m,4m*6m (can be decide by your stage)
Color RGB(Red,Blue,Green,3 in 1)
Lamp 5mm High Power RGB 3in1 LED 6 Pcs/m2 cloth
Performance Trait:
1. Degital controller,preset 29 star shining programs,you can choose whatever effect you want!
2. Controller:DMX512&,sound active,slavemaster,dimmer,strobe,speed.
3. Fireproof flannel cloth and humanization design.
4. Strong 4pin connection.
5. SMPS switch power can fit any voltage.
6. Easy to fit and dismantle.It's use for night club,live show,fashion theater,TV station,wedding,Bar,Disco entertainment,big stage,home or out door party and so on.
7. Can design by your requirement,just tell us the size,and what color of the LED's you need and the way you hung on,we will do it just especially for your stage.
8.LED spare parts for change damaged leds.
9. Strong tie cable for hung the curtain anywhere.
10. Professional package