Hardshell Electric Guitar Case Fits Different Types of Guitars
time:Thursday on Jan 15, 2015 editor:admin
ST Hardshell Electric
Guitar Case
Fits Different Types of Guitars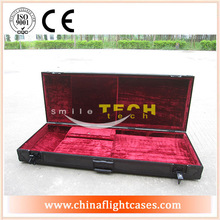 When you need to travel by car, ship or plane and take your expensive guitar instrument with you. So you must have a quality hard rack case that will safeguard them against accidental drops, slides, falls and frictions as to supply the effective protection for your guitar. All STstrong guitar flight cases are constructed from durable materials to fit many types of electric guitars.
The guitar fight case features soft plush padding fitted around the instrument for extra shock protection. What's more, it features a waterproof and airtight design that is resistant to corrosion and damage. Manufactured with high quality hardware fittings, your guitar inside it can keep safe and to last.
Because ST Guitar Cases cover a huge range of popular guitar and bass designs, so you have many options depends on your own requirements. These road cases sometimes even equipped with a lock on the outside and have a pretty suitable size accessory compartment. Of course, it's up to you!
These hardshell guitar cases are divided into two varieties-one type made of polyprolene,and the other made of wood. The polypropylene guitar rack case is lighter and sturdy, but the wood case has "coolness" appeal. Both are generally considered to be the most professional and reliable flight cases. Even though they are a little expensive, they still attract large number of customers.