High Quality Hardware Fittings of Flight Case
time:Thursday on Jan 15, 2015 editor:admin
High Quality Hardware Fittings of Flight Case
Usually, a good flight case depends on the quality of the hardware fittings. And our hardwares are high quality that completely fit your needs. They include: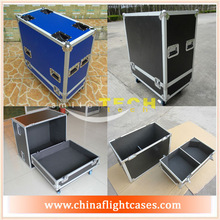 1. Ball Corners

Especially, beefy and stackable corners are convenient to stack those flight cases.
2. Industrial Grade Handles for easy to carry your road case.
3.Recessed Latch

The pretty and practical recessed latch provide plenty space saving for the rack case and easy to lock it.
4.Casters

Equipped with high heavy casters for easy to move and transport your equipment.
5.Wheel Caster Dish

A recessed, wheel caster dish which will have flight cases stacked on them with either fixed or swivel wheels.
6. Double Anchor Industrial Rivets installed for strong to fixing the flight case.
7.Rubber Feet

It can protect against the damage the flight case's bottom.
8.Hingle

Durable lightweight aluminum frame and hingle allow for good connection and protection.
9.Foam

A removable high density foam insert which the shape is decided by inner equipment. EVA Foam is frequently used in road case.