Equipment Utility Cable Trunk Flight Case
time:Wednesday on Dec 31, 2014 editor:admin
Specifications
Leading Flight Cases Factory
Factory direct Price
Quickly Delivery
3 Years guarantee
SKU: RKTRDDC

Feature:

Upgraded aluminum edging from 30mm (UK standard) to now 35mm extra heavy duty grade (industrial grade)
Ideal flightcase for all your equipment flight case needs
9.5mm Plywood with a Black scratch resistant laminate
Heavy Duty Hardware
2 Heavy Duty Cranked Latches
8 Heavy Duty Recessed Flip Handles
Hinged Lid (Stop Hinge)
4 x 100mm Heavy Duty Castors (2 braked, 2 non-braked)
2 x Divides
1 x Lift out Tray

Description:

Brand New Design for Autumn ,Off the shelf Multi Utility Road Trunks, designed with full heavy duty hardware. Built for touring with a lifetime guarantee! In stock ready for next day delivery! Utility trunk - Equipment Road Trunk Flight Case with lift out Tray and Divides.

Color: Black

If you need other colors, we can also produce for you.

Specification:
Utility Trunk RKTRDDC Case Specifications

Shipping Dimension W x H x D

Product Dimension W x H x D

Weight

49.25" x 25" x 26"

47.25" X23" X24 "

lbs

125cmx81cmx66cm

120cmx76cmx61cm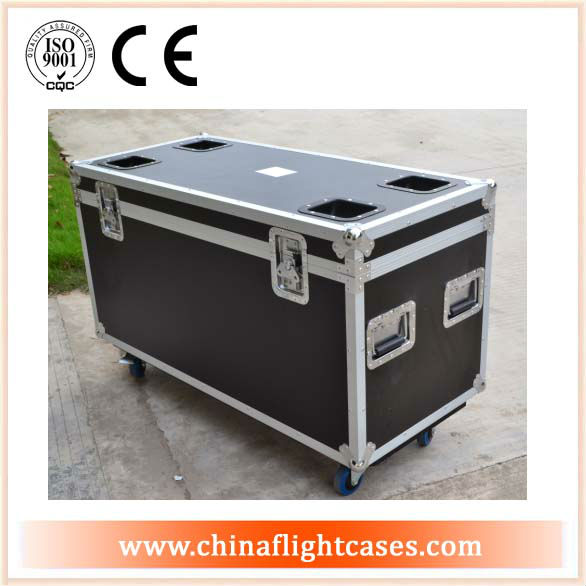 Our Products Ranges:

Flight case,Road case, Rack case, AMP Rack Cases, Multimedia Cases, Lighting Cases, Water Resistant Cases, Utility Trunks, Utility Cases, Pro Audio Cases, Musical Instrument Cases,Aluminum Cases, ABS Cases fligt case, ATA Combo Rack,Mixer case, DJ case,Speaker case,Flight case warehouses, DJ Mixer Cases & etc.