Custom Made Horizontal Style Drawer Case With Wide Desktop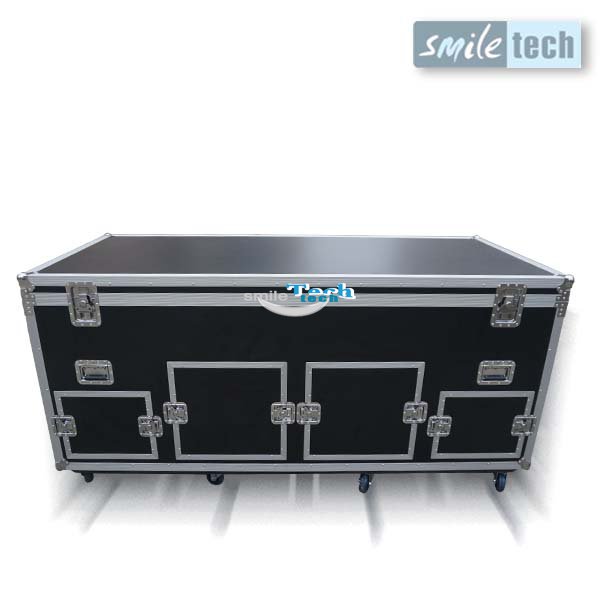 Click to see larger image
Click left or right to switch pictures

* Model No.: RKWADCDCMKII
* Horizontal style design with wide area desktop
* Detachable cover and front boards
* Six drawers and two separative cells
* Lockable butterfly latches on the joint
* Rugged casters on the bottom for easy moving

This custom made drawer case could be used as desk in your office, or workstation in bars, parties or large venues. Compared with other drawer case series, this one is special for horizontal style with drawers on both sides and two separative cells in the middle. Here is more details about this new design drawer case.

This drawer case has two detachable boards, one on the cover, and the other in the front. When take down the boards, it is like a large desk with drawers on the base. With it's six drawers inside, you can place various of your personal goods like equipment, tools, documents and files in the drawers. There are two separative cells in the middle, you can put some digital equipment like audio mixer equipment in the cells if you use it as DJ workstation. You can also put your computer case in it if you use it as computer desk in office. It is useful. The wide surface of desktop provides you enough space for placing other goods. When assembled, it is a large flight case with wheels on the bottom. It's easy movable and also looks stylish.

Since this is custom made flight case in our factory, customers can give us new ideas about their design case and we will provide the cases of custom-made for them. For more specifications, please leave us your massage on our website or contact with us via phone or E-mail. We will bring you more and more good news about our new design cases, please follow us on our web.