New Custom Design Drawer Case With Two Large Separative Interior Cells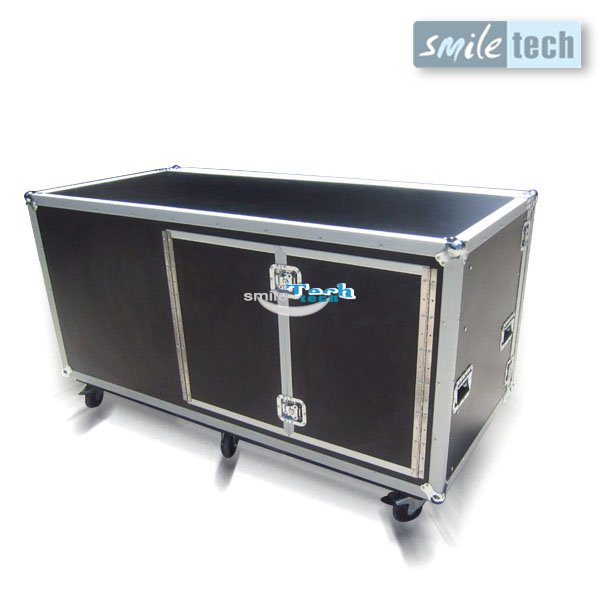 Click to see larger image
Click left or right to switch pictures
* Model No.: RKD17U3DRAW
* 9mm thickness hard plywood assembled with metal hardware
* Dismountable body with locable latches
* Two separative interior cells and three drawers
* Two small doors on the back for easy putting in and taking out hosting goods
* Caster board on the bottom with direction controllable rolls


This is another new custom horizontal style drawer flight case with interior storage cells large drawers. It can be used as desk in office or DJ workstation in bars or outdoor parties. Here we make a short brief about this new custom drawer case.

This flight case is assembled with 9mm hard plywood and mounted with metal hardware. Seem from it's external look, it is a large case with bottom wheels when folded. When you take down piece of board in front, you will see there are two large separative cells on a side, and three drawers on the other side. The large storage space inside makes it able to host goods or equipment, tools of great number. Three drawers make it easy and convenient for us to classify our goods. There are two small lockable on the back of the case, just right on the other side of the separative cells. These open-close doors is set for the convenience of putting in and taking out your hosting heavy duty gears. Six casters board on the bottom make the whole flight case easy for moving. You are definitely have no reason to turn down this drawer case. Other features like ball connners, butterfly latches, rubber covered lift, direction controllable casters, all make this case completely amazing.

Since we have custom designed drawer cases in different models, this one is another special drawer case model and is quite useful in our life. RK provides flight case for export wholesale, please follow us on our website for more details about our products.