2015 ST Flight Cases For Pioneer DDJ SZ
time:Thursday on Feb 05, 2015 editor:admin
We don't just offer standard flight cases, we offer serious customisation to your needs. Flight casesfor Pioneer DDJSZ,Pioneer DDJSZ,DDJ-T1,DDJS1 and so on!

Designed with the cutting-edge digital DJ in mind, the RKDDJSZL model features a customizable, slant-rack laptop compartment capable of accommodating laptop , with enough space left over to add additional hardwares such as the latches , handles, rutter feet.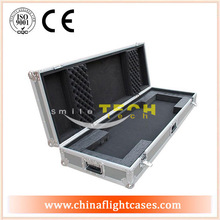 When your tour is over, secure the cover and all of your precious gear is held saftly in place for transport. Smart , simple and 100% RK. If you have any demands, please contact our sales teams.
Our Products Ranges:

Flight case,Road case, Rack case, AMP Rack Cases, Multimedia Cases, Lighting Cases, Water Resistant Cases, Utility Trunks, Utility Cases, Pro Audio Cases, Musical Instrument Cases,Aluminum Cases, ABS Cases fligt case, ATA Combo Rack,Mixer case, DJ case,Speaker case,Flight case warehouses, DJ Mixer Cases & etc.